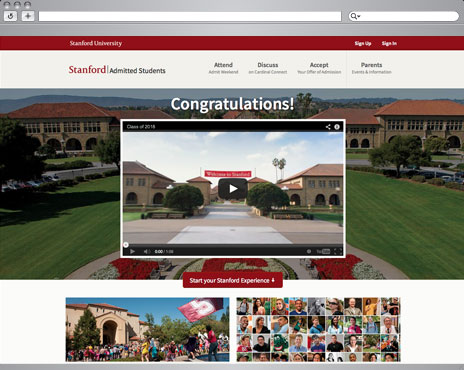 "Welcome to Stanford"
For a select number of college-bound students and their families, those three words are the culmination of a lifelong dream. We were proud to design and develop the site that delivered that message to more than 2,000 applicants for Stanford's class of 2019.
In many cases, the Stanford Admitted Students website represents the students' first interaction as official members of the Stanford community–which is why Stanford's Admissions team wanted to make sure it was a great experience.
The Drupal-based site was built on the Acquia Commons social community platform, allowing admitted students to connect with one another and members of Stanford's Admissions team in a Facebook-like environment.
Integrated with Stanford's authentication database, the site provides access for the students to officially accept their offer of admission. It also serves as the "go-to" place for information about Admit Weekend, the open-house event where the students and their parents are invited to experience the California campus in person.
Visit the Site