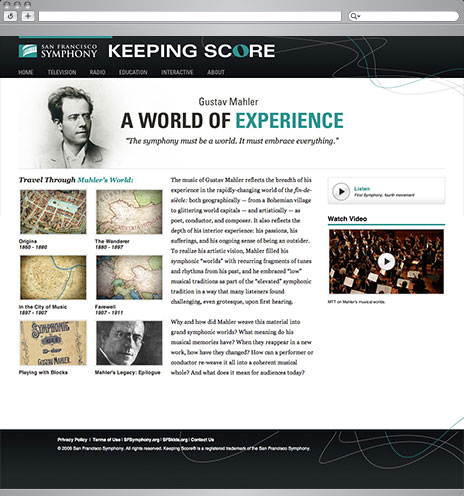 A world of experience.
Keeping Score is San Francisco Symphony's ongoing initiative to make classical music more accessible to people of all ages and musical backgrounds. Mahler: Origins and Legacy is the fifth television program and companion website in this popular series. An important site for serious Mahler fans, and a wonderful introduction for those new to the music, Mahler: Origins and Legacy takes visitors on a world-wide journey of discovery.
The site is yet another worthy multimedia companion to Michael Tilson Thomas' acclaimed television series, providing excerpts from the show, music from all of Mahler's major works, gorgeous maps, historical images throughout, and incomparable insight into the mind of a genius composer.
Visit the Site