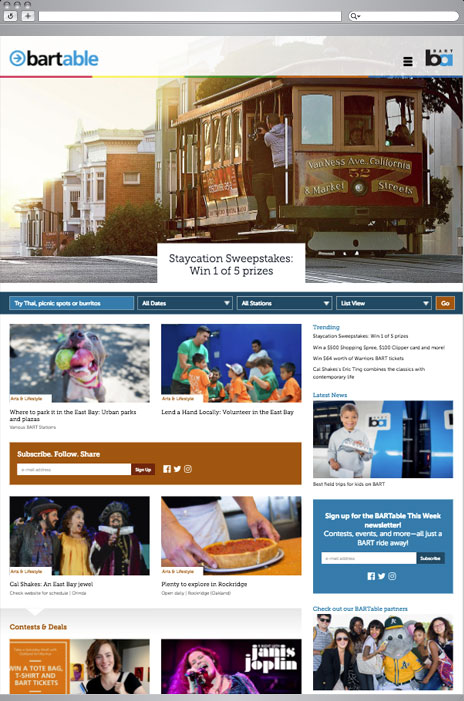 Relaunching Bartable
Embracing change is crucial to success in the Bay Area. Which is why our friends at Bay Area Rapid Transit (BART) collaborated with the team at RO to overhaul Bartable, their already-popular website. Bartable is an invaluable guide for locals and visitors to experience all that the region has to offer, whether it be great restaurants and bars, festive events, scenic hiking and bike trails, or iconic local landmarks.
The common thread is that all of these amazing experiences are "Bartable," that is, they are conveniently located within walking distance from a BART station.
We collaborated with Bartable's talented marketing team to bring the improved site to life. Our UX team performed their wizardry on client-created designs to make them fully responsive. Our Drupal development team brought it all together, enabling advanced filtered search and integrations with Instagram, Google Maps and other third-party providers.
Initial indications suggest that the changes are a hit: subscriptions to their email newsletter have increased dramatically and a sweepstakes promotion linked to the re-launch has been hugely popular.
Visit the Site