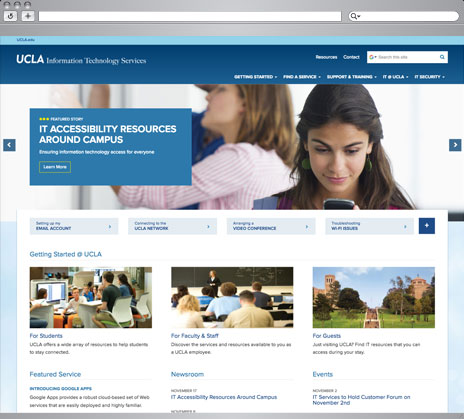 University Scale Drupal
at an Elite Public University
UCLA is making a big bet on the Drupal content management platform and Rolling Orange is working hard to help them make sure it pays off. Our team was brought in to help define, design, and build out a web publishing platform that will ultimately scale across the entire university. The first salvo in this effort to "Drupalize" the university was made with the launch of it.ucla.edu. This site features a new branded design theme, content types, and Drupal functionality that will ultimately propagate across the campus.
Powered by Acquia Cloud Site Factory the platform will serve as the engine that will allow UCLA to create, deploy and manage new sites for all of the university's administrative units. Since its initial launch in early 2017, UCLA's Web Services team has spun up several new websites and plans to scale up its efforts to service hundreds of departments, units, and other entities in the years to come. We are proud to partner with both Acquia and ActiveLAMP to help bring this vision to reality.
Visit the Site