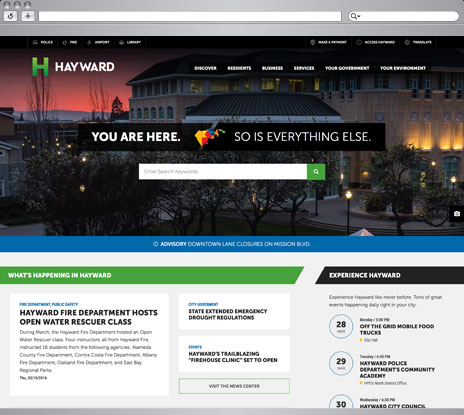 Heart of the Bay
People throughout the Bay Area and beyond are quickly discovering what makes Hayward such an exceptional place to live, work and play, thanks in large part to a beautiful new website designed and developed by Rolling Orange.
The colorful visual design features captivating photography of the verdant Hayward hills and vibrant revitalized downtown district. Features such as "By the Numbers" and "Hayward Social" offer innovative ways to tell a multi-layered story.
Portal sites for Police, Fire, Library, and Airport extend Hayward's online brand to important community resources.
The site was built using the Drupal content management framework, allowing all city departments and divisions to manage their own content. In addition to executing the design and build, the Rolling Orange team also provides training and ongoing support to ensure the site remains as vibrant and relevant as the city it represents.
Visit the Site