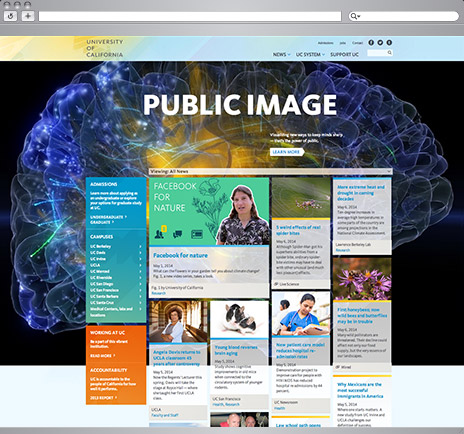 UC news site tells a huge story.All of our clients have big stories to tell, but perhaps none quite as large as the University of California system.
With 233,000 students, 190,000 employees, and 1.7 million living alumni, the UC system is one of the largest and most prestigious public university systems in the world.
Collecting and organizing all the news coming out of such a system is a monumental task, made much easier thanks to an online publishing application designed and engineered by Rolling Orange. The Drupal 7-based system aggregates news feeds from the UC's 10 campuses, five medical centers and three national laboratories,
and presents them in an editorial interface for a team of writers and editors at the University of California Office of the President (UCOP), the system's central administrative unit.
The stories are then further edited, organized, tagged and repackaged for publication on the universityofcalifornia.edu site.
We collaborated with UCOP's talented in-house team, who provided the colorful and dynamic responsive design and front-end code. The result is a beautiful website that tells the amazing and always-changing story of the UC system.
Visit the Site