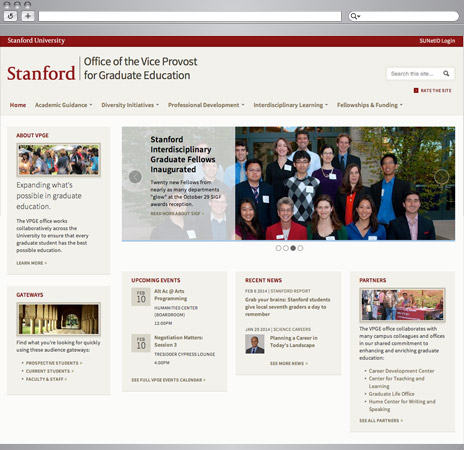 Helping graduate students thrive academically.
While our team loves end-to-end projects, we also love to collaborate with great in-house web professionals. The new Stanford VPGE website is an example of one such successful collaboration.
Rolling Orange was brought in to create an online strategy for Stanford's Office of the Vice Provost for Graduate Education (VPGE). The strategy we delivered–comprised of interviews, focus groups, persona development, content modeling, and information architecture–paved the way for a smooth design and development phase.
Stanford's Web Services group used these tools as a springboard to create a beautiful and functional site using Drupal 7.
The VPGE works with Stanford's schools and departments to ensure that every graduate student has the opportunity and support to thrive academically. As an organization that oversees a community of nearly 90,000 master's, doctoral, and professional degree students in 90 departments and programs across Stanford's seven schools, a rich and robust online presence is critically important to the VPGE.
Visit the Site