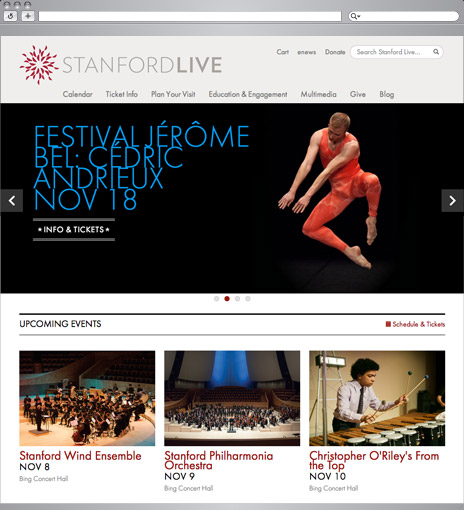 Bravo to Stanford's Performing Arts Site!
A performing arts website at a world-class university? You couldn't dream up a better scenario for a project that plays right into years of Rolling Orange expertise.
Stanford Live is the online home to all performing arts events at Stanford University. The launch of the site comes shortly after the debut of one of the Bay Area's hottest new concert venues, Bing Hall.
Our team worked with Stanford to define a site strategy and create a bold and clean visual design that looks as great on a smart phone as it does on a desktop monitor.
In addition to the architectural restructuring and a visual facelift, we replaced an aging home-built CMS with a friendlier administrative interface based on Drupal 7.
Our years of experience delivering solutions for the likes of the New York Philharmonic, Carnegie Hall, and the San Francisco Symphony paid off, contributing to an easy-to-use and delightful user experience for Bay Area concert goers and arts enthusiasts alike.
Visit the Site