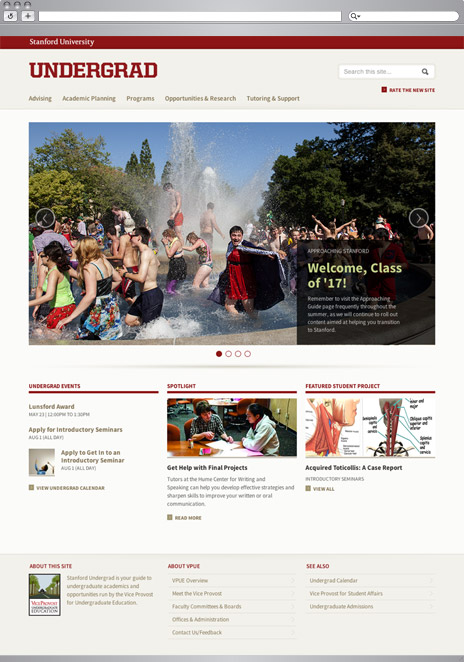 The ultimate undergrad experience.
A plethora of majors, seminars, overseas studies, academic programs, etc… Opportunities are boundless for undergraduate students attending Stanford University. Where does one turn to to make sense of it all? The Stanford Undergrad website has all the answers! The site exemplifies Stanford's vision for enriching the undergraduate experience, presenting key programs and initiatives that both facilitate students' acclimation to college level work and guiding them on their intellectual journey at Stanford.
Rolling Orange worked closely with Stanford's Office of the Vice Provost of Undergraduate Education (VPUE) to develop a site strategy, a coherent and easy-to-navigate information architecture, and a clean, responsive design that looks as great on your smartphone as it does on your desktop. In addition to working with VPUE, we collaborated with Stanford's Web Services group, who did an amazing job bringing our designs to life in Drupal.
Visit the Site