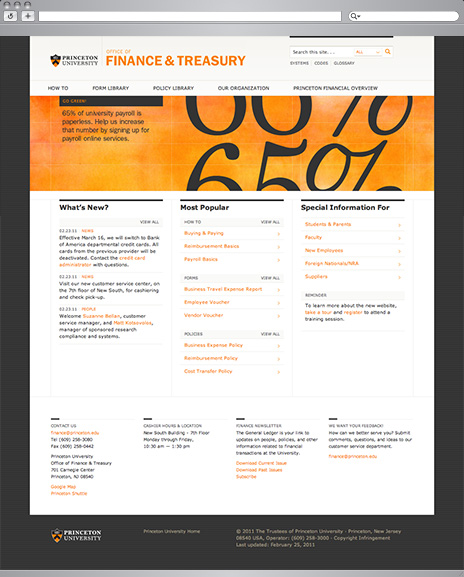 The very definition of user-centered design.
The Princeton Office of Finance and Treasury asked Rolling Orange to help redesign their site as one component of a broad customer service initiative.
Our research phase helped define our primary goals: make content easy to find, easier to understand, and more accurate and reliable. Smart readers will note that the design of a website will only address the first of those needs. In order for the site to be successful, it would need a serious commitment from Princeton to design not only the site, but the content and the very business processes that support their division.
Special features were built into the design and information architecture to support these goals. Content was organized from a customer perspective. Forms were grouped into a central library. Policies were written from scratch, and a whole new section called How To was added with easy to follow Step-By-Step instructions for common procedures.
The site was tested with users, refined, and built on the Roxen content management system. The entire process took about 11 months and, judging from the feedback received, was worth the wait!
Visit the Site