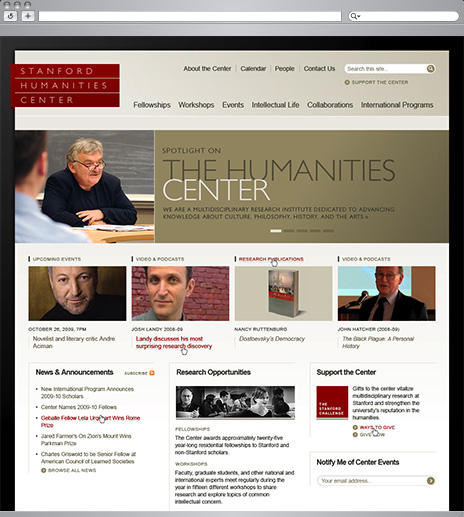 A new face for the Humanities Center.
There's a lot going on at the Stanford Humanities Center. A fresh design, supported by an extensive Drupal CMS backend, supports the Center's various activities, including a robust calendar and profiling system for Fellows and Speakers. An XML-driven Flash banner adds some life to the site and makes it easy to post the latest news and events. Leveraging YouTube allowed us to include a video section without all the hassle and setup of streaming servers and bandwidth concerns.
We developed a comprehensive set of wireframes to determine content and flow, and then designed a look-and-feel that complements the Stanford aesthetic but still gives the Center their own unique identity. Built with the Acquia Drupal CMS, the site delivers powerful functionality that can be supported by a relatively small team.
Dries Buytaert, the original creator and project lead of the Drupal project, singled out this site as an exemplary Drupal-based Web design.
Visit the Site